---
The Heart of Adjustment
Carson City, Nevada
October 4 – 6, 2019
October 4-6, 2019
Friday 6-8pm; Saturday 11a–6p; Sunday 9a-4p
(there will be a 90 minute lunch break on both Saturday and Sunday)
We all want to be seen and heard, and to feel connected with a sense of belonging. As a teacher, you can create a safe container for your students to explore this possibility. In this unique 3 day workshop, you will learn how to deepen the connection with yourself, and then with your students. You will leave this weekend with a deeper inner relationship that you can bring to your teaching.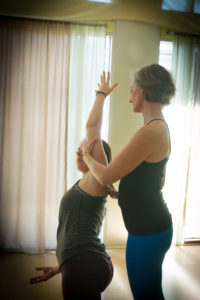 Workshop Goals:
Use principles of anatomical alignment to facilitate safety and encourage body awareness.
Use your hands in intentional and subtle ways to align and open up pathways for prana and healing to flow.
Integrate your meditation practice into your asana, and assist in creating a co-meditation with each student.
Develop your senses to tap into the subtle energies of the class to discern which students to assist, when, and to what degree.
Use your voice and presence to encourage a spirit of curiosity and confidence in the dynamic class environment.
Develop a deeper relationship with your own body, mind, and heart.
This workshop is a blend of discussion, self-reflection, exercises and interaction with others. Exercises include: personal subtle body exploration, learning to "see" prana flow, mindful touch, and asana assists from this perspective. We will explore three progressively deeper levels:
Part 1: Preparing for Contact: Connecting with Yourself and the Other Teacher in the Room
Part 2: Dancing at the Gross Level: Physical Alignment
Part 3: Deepening at the Subtle Level
Space is limited. See Carson City Yoga's website for more information and to register.
---
iRest Yoga Nidra at Wild Heart Yoga
Sunday, October 27, 2019
Wild Heart Yoga
5604 Bee Cave Road
Austin TX 78746
4-5:30pm
Come experience iRest Yoga Nidra, inspired by Richard C. Miller, to experience greater levels of relaxation, energy, and contentment. Research shows that a 30-minute Yoga Nidra practice is equivalent to about 4 hours of deep sleep. It has also been shown that Yoga Nidra can be used as a therapeutic technique to alleviate anxiety, depression, and insomnia.
Each month, we'll focus on a specific philosophical and scientific aspects of the iRest Yoga Nidra practice. The workshop will include gentle movement, discussion, short meditation, and a longer iRest practice.
Pre-register here. Please arrive at least 15 minutes early to get comfortable.
Cost $30/$25 members of WHY